2D CAD Drawing, In today's era of tech advancements, digital sciences have impacted every aspect of our lives in one way or another. Technology has transformed our lives to the point that we would be lost without the amazingly useful resources that we have at our fingertips. Right from stocking up on groceries to navigating with Google, we use gadgets to help us with the most trivial tasks. Everything has become simpler, quicker and more accurate; and the spectacular advancements in the tech space make it difficult for us to imagine doing our work in the absence of these tools. The construction industry, too, has undergone a massive shift in imbibing cutting edge technology resulting in faster delivery time, accuracy and ease of building.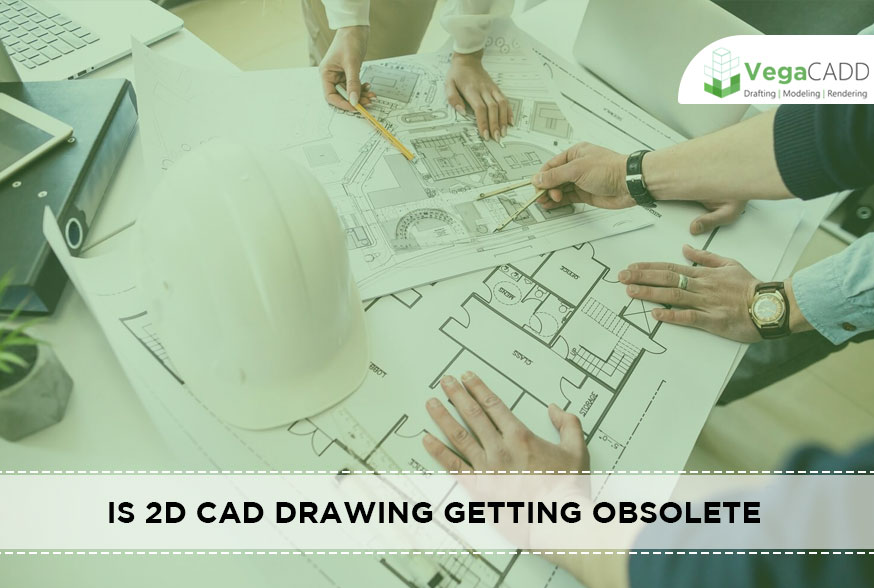 In a world where technology, seemingly, rules our lives, there are still some architectural firms that work the traditional way, relying on the 2D CAD drawing, construction detailing and tracking execution for their projects. With the ready availability of software like 2D AutoCAD, Autodesk Revit and so on, architects need just a matter of minutes to add details to the plans. Why, then, would these firms opt for 2D CAD drafting, or even in some rare cases 2D manual drafting? Perhaps 2D CAD Drafting still offers a few functionalities that add value to the stakeholders in the construction industry.
Importance of 2D CAD Drawing Design:
To begin with, 2D drawings are simple, concise and do not offer an overload of information. Each drawing contains just the right amount of information that is appropriate for that particular section of the site, avoiding miscommunication and making details easier to process.
2D Rendering is an Art, and many architects love to ideate on paper or jot down notes on a pad. Digital images somehow do not have the creative connect, or match the look and feel of sketches on a sheet of paper. With 2D drawings on paper, notes and sketches can be added right on the drawing, without the need to have the know-how to do mark-ups on a CAD drawing.
Electronic gadgets are sometimes inconvenient to use ergonomically; particularly so in construction sites, or batteries may drain down at crucial times. Paper drawing copies conveniently alleviate such constraints.
There are projects or manufacturing processes that still require shop drawings for customer reviews and changes, and 2D AutoCAD drafting still plays an integral role in such projects. In particular, drawings that need exact dimensions for execution use 2D rather than 3D.
Printing and processing 2D drawings are far easier than printing 3D drawings, for which software support and a plotter may be required. A 2D drawing could be PDF to AutoCAD Conversion and printed readily in an A4 format using any available printer.
Multiple stakeholders like local municipal/development authorities require 2D drawings and construction detailing for permits. Contractors who deal with Civil, Mechanical or HVAC and Electrical work often prefer 2D drawings for execution layouts as that is the format they are familiar with. Thus, although preferable to real estate marketers, 3D needs the whole construction and real estate ecosystem to migrate the technology, which might not be easy in developing countries in particular.
To sum up, 2D drawings are functional and detail oriented while 3D Rendering services offer aesthetic and visual appeal. There are, though, some distinct advantages that 3D image rendering offer that 2D drawings cannot. 2D would come in useful during the construction phase, but 3D views can help to market the project even before the construction commences. Property marketing or Real Estate marketing offices would be more likely to prefer 3D views to attract prospective buyers, as they can highlight the unique value of the property they are trying to sell.
If you are looking for Outsource CAD Drafting Services or 3D Modeling services, VegaCadd can help you to choose the best options for your project.
To know more about how we can assist you, contact us at info@vegacadd.com or Simply reach out with the fill Contact us form.