3ds Max, a product of Autodesk, is popular 3D modeling & rendering software which is used for developing precise 3D models, generating 3D animation and creating 3D rendered images efficiently. 3ds Max software has wide ranging usage in 3D Modeling Services and 3D Rendering Services across AEC industry, entertainment industry, media and game industry. In this blog I will talk about how 3ds Max software is implemented for creating design visualization and executing Architectural 3D Rendering process in AEC industry.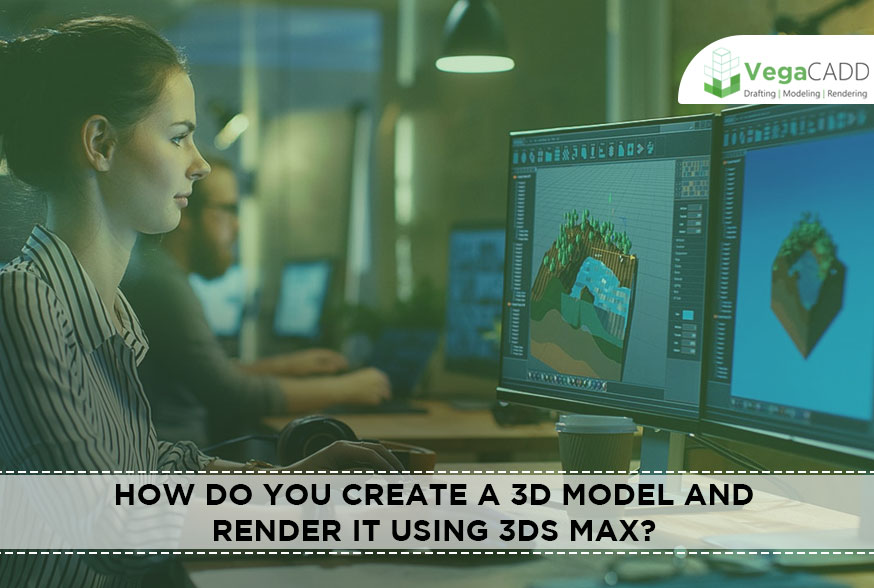 In 3D Modeling Services and 3D Rendering Services, 3ds Max software is mainly used by architects, 3D rendering artists, interior designers, 3D modelers and product designers for creating highly effective building or product designs.
To create a 3D model or design by performing Architectural 3D Rendering process, at first you need to download or install 3Ds Max software (try to install latest version) in your system from Autodesk website. 3ds Max enables you in shaping your ideas effectively i.e. you can express your entire imagination through photo-realistic rendered images. So using 3ds Max you can deliver highly accurate 3D Modeling Services as well as 3D Rendering Services to clients efficiently.
Unit Setup
Once the software installation is completed, you need to do units setup. Mainly three types of units i.e. Metric, US Standard and Custom are used in 3ds Max. I will recommend you to do your work by using either Metric or US Standards. Before importing file into 3ds Max, be sure that the unit of the 2D CAD drawing and unit set up in 3ds Max are same i.e. if the 2D CAD drawing has been made using feet-inch unit, then the unit set up in 3ds Max need to be feet-inch.
File import
After setting up units, you require to import files (.DWG files) form AutoCAD into 3Ds Max.
What Other file types you can import into 3ds max?
Beside .dwg file format, you can also import other types of file formats like .FBX, .3DS, .DAE, .OBJ, .SKP, etc. into 3Ds Max.
Workflow
To render a 3D model effectively by performing Architectural 3D Rendering process, just proceed through the following steps –
Modeling – At first create a 3D model of your designed object which can be anything like a building, product, furniture, etc. In 3D Modeling services, for creating a 3D model, at first you have to import the CAD drawing of that object within 3ds Max and then you have to develop 3D model by following the imported 2D CAD drawing.

Lighting – Once the 3D model is completed, you have to perform lighting. I have seen many rendering artists who start lighting the scenes before applying materials when they execute Architectural 3D Rendering process. Applying material before lighting sometimes creates problem like users can understand the effect of lighting on material. In that case either they make adjustment or they render the scene another time. Don't you think it's just waste of time? Architectural 3D Rendering workflow depends on the scene and types of materials. I will suggest you first set up lighting and then apply materials in 3D Modeling Services.

Shading and Texturing – Different types of materials are available within 3ds Max. You can also download free textures from internet (www.cgtextures.com) or purchase textures. In 3D Modeling Services, you can also create your own texture either by scanning texture from natural elements like wood, fabrics, etc. or by taking photographs using your digital cameras. Now if you shoot photo, import it within Adobe Photoshop and the do some useful modification and give final touches in the photo. You can create your own library of textures that you can use anytime in any project.

3D Rendering – Architectural 3D Rendering is the most important step of the entire workflow. In this step you have to apply material, texture, lighting effects, color, etc. properly to the model and make the model photo-realistic.

Compositing – In this step, some other objects or effects are added to the final rendered images or videos. In case of still images, you have to use either by using 3Ds Max or by using other photo editing tool like Adobe Photoshop. In case of videos, you have to use video rendering tools like Adobe Premiere. You can also add some special effects to your rendered image or video.
The demand of Architectural 3D Rendering and design visualization is very high in the industry especially AEC industry, entertainment industry and film & media industry. In 3D Rendering Services, 3Ds Max software has a big role in creating high-end design visualization. This software has brought lots of opportunities for 3D modelers, rendering artists and other professionals. It's highly advanced features not only help professionals in producing high quality design by executing Architectural 3D Modeling process but also help in increasing efficiency significantly.
Choose High Quality 3D Rendering & Modeling Services
Vagacadd provides unmatched and high quality Architectural 3D Rendering Services, Revit Modeling Services and 3D Animation & Walkthroughs to clients based in USA. We deliver novel and technically advanced Architectural 3D Visualization Services at inexpensive pricing and swift turnaround times. Our team bears a host of Architects, Modelers and Renderers with amazing creativity, an eye for detailing and comprehensive knowledge of architectural standards and construction intricacies. With our impressive photorealistic quality renders and pristine models, we have established a promising track record of repeat clients.
Contact us here for how 3Ds Max help you in design 3D Model and Render.