A picture is worth a thousand words, as they say, and nowhere is this truer than in the case of 3D Rendering Design images! As a communication and marketing tool, a 3D hyper-realistic image is a great visualization aid. The 3D visualization studio use highly sophisticated quality rendering software and tools to produce detailed images according to the needs of their clients. Clients and stakeholders who may often be unable to visualize 2-dimensional plans, sections, or elevations can immediately connect with a 3D image, as it is right to life and very realistic. They can easily understand the flow of spaces inside and outside the building, its relation to the environment and the aesthetic aspects of the design.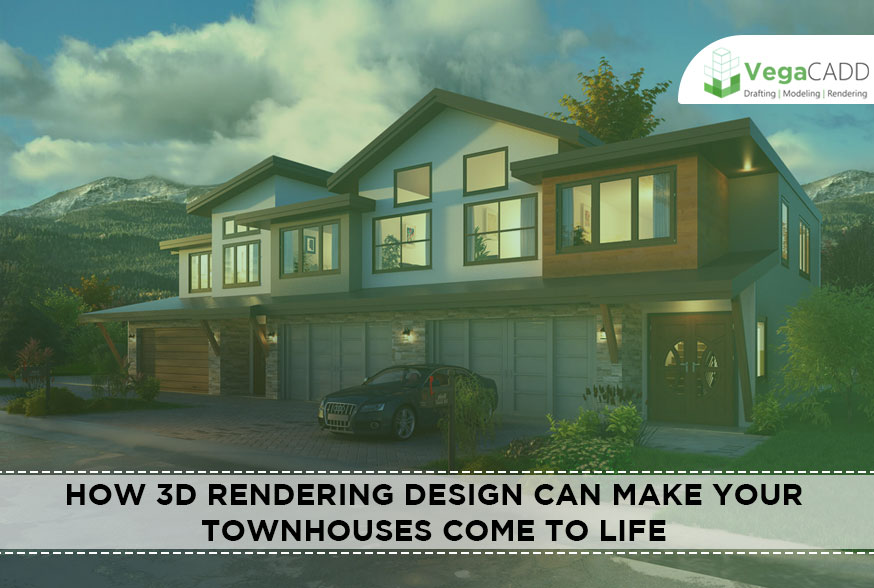 What are Townhouses?
Townhouses are usually residential projects undertaken by builders and developers. Usually, townhouses are leased or rented from the developer though this could vary. Townhouses are very common in the suburbs of cities, where space is at a premium, as they occupy a smaller footprint.
Typical features of a Townhouse:
Townhouses are conjoined units that share at least one, or several common walls, and have a street façade that presents a uniform design language. They commonly have two or more stories and could be flat-roofed or have sloping tiled roofs. Most townhouses are duplex-style, with rooms on several floors, and are considered dwellings that are middle or upper-middle class.
A 3D rendering of a townhouse would help the builders and architects to present the design concept of the finished project to investors and potential renters or buyers. Using the power of technology and tools. Powerful visualizations can be created that take the viewers through all details of the finished project.
3D visualization has proven to be one of the most effective presentations and communication tools in recent times. It empowers informed discussions on the proposed project at every stage of the design process – right from initial sketches and concepts, through the process of approval from stakeholders and during construction as well. There is complete clarity on every aspect of the design and structure, and all the attributes of the project are easily explained to others, including those who are laypersons!
How long would it typically take to Complete a Townhouse, Render?
This depends on the complexity of the design and the amount of detail required, but typically a townhouse renders could take anywhere between a few days to a week. Most studios will also accommodate urgent requests in a fraction of the usual time.
How much would a 3D Rendering Design of a Townhouse Cost?
Contrary to popular belief, 3D Rendering Services are not expensive. In fact, they more than pay for themselves in terms of the marketing benefits they offer and the time advantage during discussions and construction. Every project is unique, so there is no thumb rule for pricing. Technological advancements in recent years have made home renders extremely cost effective with a far quicker turnaround time than ever before.
What can be Depicted in a 3D Visualization?
3D visualization can be hard to distinguish from an actual photograph, as they can portray true-to-life depictions of color, texture, and material, giving the viewer a comprehensive idea about the design. In the case of interior renders, all details such as furniture, furnishings, and interior decor artifacts can be depicted.
Any 3D Renderings should clearly convey indoor and outdoor lighting, in both sunlight and artificial light. Especially when it comes to designing residential townhouses, lighting plays an important role, and viewers would like to see what the building looks like at different times of the day and under different weather conditions.
What is the use of a Townhouse 3D Rendering Design?
There are many advantages to having a 3D Renderings of your proposed townhouse. At the design stage, architects can use it to get design approval from all stakeholders. Engineers could study the images to see if there are any flaws in structural aspects or shortfalls in the mechanical, electrical, or plumbing service design of the proposed project. Any such design errors could be costly if detected at a later stage, while they can be easily corrected if found out during the initial stages itself. During construction, the image which is created to scale can be used as a reference point for easy comprehension of the layout. At all these stages, it serves as a valuable marketing tool, allowing the project to be sold even before construction has started at the site.
Why should you approach Vegacadd for your 3D visualization?
Expert teams of architectural visualizers like the Vegacadd team, can prove to be the right choice for several reasons.
The artists are experienced and will know the best angles that would showcase your design in the best possible light

They are well versed in the use of the latest tools and techniques, and the result would be very professional indeed

You can expect stunning, high-resolution imagery that will serve all your needs; whether it may be on flyers, posters, banners, hoardings, or for online marketing campaigns

They offer very fast turnaround time, especially if you are in a rush

Minimal revisions would be required, provided your initial inputs are comprehensive

Excellent customer services

On-time delivery

All this, at the most economical rates that don't burn a hole in your pocket!
As a testimonial to our quality is the fact that most of our customers keep coming back for more, sure proof that we are the agency you should choose! We're very happy to work with you. Do call us today!
About Us:
Vegacadd provides specialized assistance to US-based clients in their CAD Drafting, Architectural, Interior Design, and Property Marketing requirements. We offer an entire spectrum of services spanning Architectural Visualization (Renderings), Animation (Fly-Throughs, 3D Walkthroughs), and Virtual Reality.
For all your Townhouse Marketing needs spanning 3D Interior, 3D Exterior, 3D Aerial/Birds Eye View, or 3D Walkthroughs, contact us today at engineering@rayvat.com or call us at +1-(888)-863-4445.