One of the most significant technologies in the AEC (Architecture, Engineering, and Construction) is CAD Drawing. For a long time, architects struggled with the manual paper and ink drawing process which is a time-consuming and labor-intensive process. 3D CAD Drawing Services have changed all this, but for most small firms, lack of resources to implement these services in-house poses a problem. However, outsourcing CAD Design Services comes in as a great alternative. It is cost-saving, allows scalability and flexibility and your firm enjoy a full spectrum CAD service.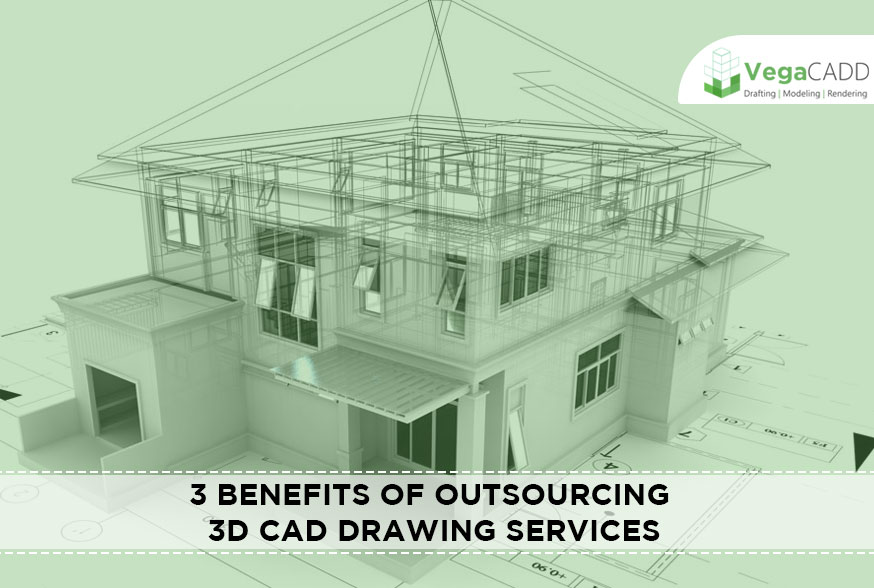 Benefits of Outsourcing 3D CAD Drawing Services:
1. Reduced Expenses:
As an architectural firm, one of the major concerns you have to tackle is the lack of enough resources. Of course, every architect would like to do everything in-house, but in the existing business environment, this is not realistic. Outsourcing all your CAD Design Services is a smart move to lower operational costs and still offer incredible services to your clients.
You don't have to worry about paying salaries to an in-house CAD design team. More importantly, you don't need to create office space, pay benefits among other expenses that come with an in-house team. You will save a lot of money working with a reputable CAD vendor and yet you won't compromise on quality.
2. Custom CAD Design Solutions:
The best thing about outsourcing your CAD Drawing Services is that you get a flexible package that suits your business needs. The services offered depend on the project you have on your hands. Custom CAD Drawing solutions guarantee you meet your client's demands every time. The best CAD outsourcing vendors have highly talented professionals with different skill sets.
Whatever CAD Services you have in mind, the vendor is in a position to help. If you try providing these services in-house, you will strain your resources, and ultimately, the quality of your projects will suffer. To enjoy flexibility when working on a building project, work with an established vendor and enjoy all the services you need from CAD Drafting, CAD Conversion to CAD Modeling services and many more.
3. Increased Efficiency/Productivity:
When starting your architectural firm, your resource base is small, and for this reason, you need to get the best out of everyone in the team. This means letting your employees utilize their skills in tasks were most suited. For this to work, you need employees to focus on every aspect of the firm including Construction Drawing Services.
This is not practical if they don't have prerequisite skills and it is thus better to outsource and allow your employees to focus on the core business. You can allocate your precious time for another work. By allowing your employees to work in areas where they are best suited, you increase productivity and boost the performance of your company.
Outsourcing CAD Design Services is a smart move to unlock your company's potential. It saves you money, boosts productivity, and you will get a full spectrum of CAD services. By cutting your operational costs through outsourcing, it is possible to invest in other aspects of your business including marketing to boost the performance of your company.
Vegacadd CAD Drafting Studio, Estd.2007, provides specialized assistance to a global clientele for their architectural, interior design and property marketing requirements. We provide the entire spectrum of services spanning Architectural Visualization, Animation and CAD Drafting & Modeling.
Contact us today at +1-(888)-863-4445 to discuss your CAD Drafting Services. We shall be happy to help!