3D rendering is being used in a variety of industries, from architecture to film to video games. If you're interested in learning more about the ways this technology can be utilized outside of traditional 3D animation and modeling, read on for a list of five industries where 3D rendering services is currently being used.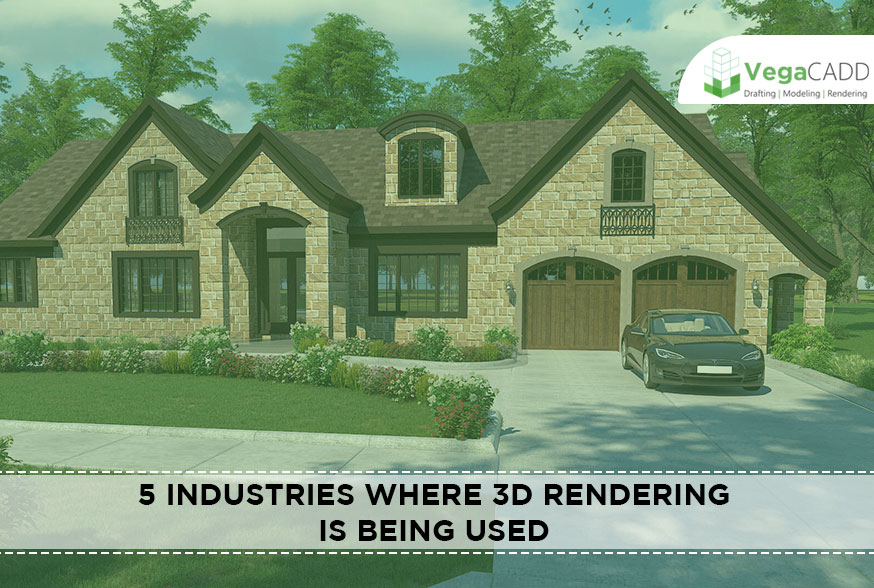 The following are the industries where 3D rendering is been used:
1. Architecture & Design:
3D rendering is a process of creating 2-dimensional images from 3-dimensional data. Architects and designers use this type of software to create photorealistic renderings, animations, and walkthroughs for presentations about their projects. If you're looking to get your design or architectural project noticed by the public, then you should consider hiring a professional 3D renderer to produce high quality visual content for your presentation materials.
3D Rendering is not just restricted to architecture and design: it can be used in any industry where designs are required before construction begins - such as engineering and fashion.
2. Real Estate:
Every day, there are so many new houses and buildings being constructed all over the world. That's why it is always important to know what you want before you start looking for a place to live. It can be difficult if you don't have any idea of what type of building or area of town will suit your needs best, which is where 3D rendering comes in handy.

3. Interior Design:
Are you looking for an interior designer to help you design your 3D rendering? If so, we have the perfect solution! We can meet with you and discuss your project in detail. We will work closely with you to develop a unique and personalized design that is tailored specifically for your needs. Our designers are experts in their field and they know how to create stunning designs that will impress both clients and guests alike.
4. Construction:

onstruction is a complex process, which requires expertise in many different fields. There are limitations to what can be done without the right knowledge and skillsets. 3D rendering is an invaluable tool for construction projects because it allows you to see the finished product before any work has been done. In this blog post, we'll go over some of the benefits that 3D rendering offers to construction projects, as well as how it helps teams collaborate better on these types of jobs.
5. Advertising & Marketing:

3D rendering is a form of marketing that helps bring ideas to life for both clients and customers. 3D rendering can be used in many forms, such as by creating an animation or video, storyboarding the entire process of completing a project, designing concepts and other services. The ability to use 3D modeling is now more accessible than ever before because it has become far easier to create realistic renderings through computer software programs that are available on the market today.

How Real Estate Marketing Ideas to Attract Buyers with Vegacadd?

Vegacadd helps you with 3D Rendering in your industries like Architectural Designing, Animation, Real Estate and Gaming Engineering etc., so you can get more benefits than just designing buildings or animation sequences. Vegacadd provides 3D Rendering services for all kinds of companies out there who need their products rendered quickly and at high quality standards too!
So if you're looking for any kind of service related to 3D Rendering then contact us today!