3D Rendering Services are an array of services employed by different industries, companies and firms all around the world for better outputs. It is apparent that that three dimensional models aid with superior visualization when compared with the two dimensional drawings. The applications of 3D Rendering Services are simply enormous and in the current scenario, they are being outsourced predominantly.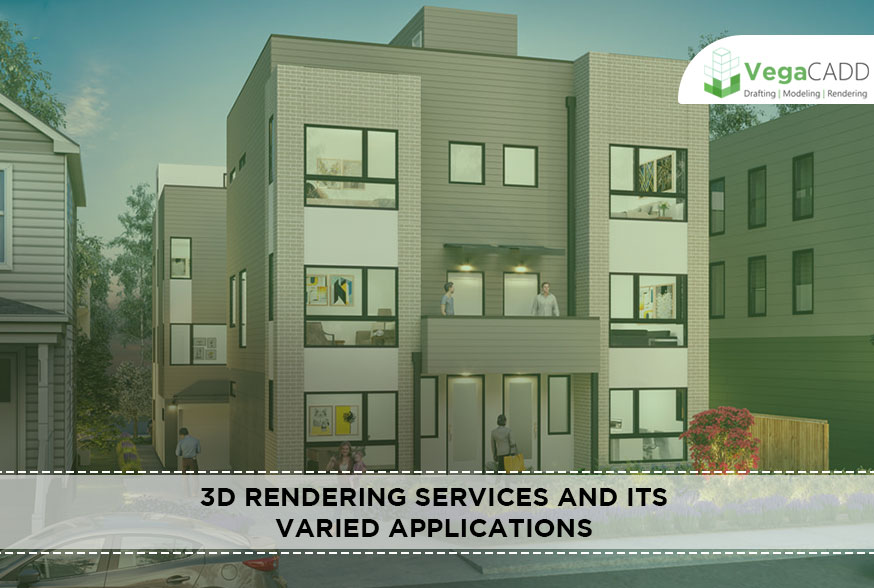 In the field of architecture 3D rendering services enable you to see the building right at the conceptual stages whenever it has not been build. With ideal light effects and shadow effects, the models are completely realistic and lifelike.
3D Architectural Rendering Applications can be listed as:
Interior and exterior rendering

Animations and walkthroughs

Three dimensional architectural modeling

Rapid prototyping

Modular custom furniture

Photomontages

Assembly animations

Numerous softwares which are used for 3D Architectural Rendering Services are listed as:

3D Max 13

V-Ray 2.0

AutoCAD 2013

Revit

Photoshop CS6

MAYA 2013

Sketchup

Cinema 4D

All the information could be conveniently accessed by such 3D models and Analysis evolves into a lot more beneficial. A number of different advanced software packages nowadays are used to generate 3D models, animations and walk through which not merely help in better propagation of information but in addition enhances the total impact of the presentation.
These models enable you to analyses and find out the essential alterations that ought to be made as per the engineers or owners. Furthermore, interior and exterior design of building is just as realistic as the structure of building. Animations and walkthroughs attained by 3D architectural rendering services are more widely used by advertising companies and real estate agents for presentation in order to allure more buyers and investors.
Rapid prototyping, that is definitely a popular reverse engineering process, also utilizes 3D rendering services for efficient 3D models. Attributable to its cost effectiveness, quick turnaround time as well as the improved quality which is ultimately obtained, the off-shore outsourcing of 3D architectural rendering services has turned out to be a common phenomenon today.
Contact us here for 3D Rendering for the Varied Applications In Different Construction Domains.